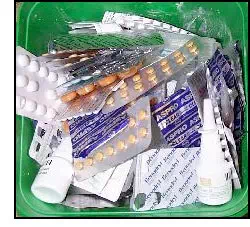 Managing Specific Wastes - Pharmaceutical Wastes
Overview
The following is a summary of regulations and best management practices related to pharmaceutical wastes, which includes expired medications, manufacturers' samples, product used in compounding or IV preparation, spilled or broken product no longer useable for its intended purpose, and any items used in cleaning up a spill (vermiculite, paper towels, etc.).
For many years, a standard disposal practice at many health care facilities was to flush unused pharmaceuticals down the toilet or drain. EPA strongly recommends that facilities should eliminate this practice because studies have identified numerous pharmaceutical compounds at discernable concentrations in our nation's rivers, lakes, streams and drinking waters.
Additional pharmaceutical waste information is available on HERC at: Pharmaceutical wastes in healthcare facilities.
Regulations
Expired pharmaceuticals and other pharmaceutical wastes are regulated by EPA and/or your state environmental agency if:
the sole active ingredient in the pharmaceutical in question is listed by the Resource Conservation and Recovery Act (RCRA) as a hazardous waste,
the pharmaceutical contains some other ingredient that results in the pharmaceutical to exhibits a characteristic of hazardous waste under RCRA (e.g. contains enough alcohol to be flammable), or
the material is otherwise regulated by your state environmental agency.
In addition to EPA and state environmental agency regulations, the U.S. Drug Enforcement Administration has rules that apply to the disposal of expired medication that falls into the category of "controlled substances."
EPA Regulations and Guidelines. Certain expired medications and other pharmaceutical wastes are know to be hazardous under RCRA. Dental offices, like any business, must evaluate all of their wastes using RCRA procedures, to determine if the material is either hazardous or nonhazardous waste. The determination process involves checking to see if the chemicals involved are found on one of several lists of hazardous waste or if the waste possesses certain hazardous characteristics (e.g., flammable, corrosive, reactive or toxic). A detailed discussion of the RCRA waste determination process can be found in the HERC section covering pharmaceutical waste compliance requirements.
When wastes are determined to be hazardous, health care facilities must comply with RCRA requirements for both management and disposal. Hazardous waste pharmaceuticals are most commonly treated by hazardous waste incineration, with the resulting incinerator ash disposed in a permitted hazardous waste landfill.
For non-hazardous, non-controlled pharmaceuticals, EPA recommends that health care facilities send the pharmaceuticals to a reverse distributor (see below) for potential credit and proper disposal. Nonhazardous pharmaceutical waste should not be sewered, but rather should be disposed in a solid waste landfill or incinerated in a solid waste incinerator, in accordance with all state and/or local environmental regulations.
U.S. Drug Enforcement Administration Regulations. The disposal of controlled substances, drugs or other substances that are controlled under the Controlled Substances Act (CSA), must be managed in accordance with the regulations issued by the U.S. Drug Enforcement Administration. These rules apply regardless of whether the materials are considered hazardous or non-hazardous under RCRA.
The CSA has specific requirements on how to handle unused controlled pharmaceuticals:
If the facility is a DEA registrant, such as a pharmacy, hospital, or a practitioner, the facility has options for disposing of an unused controlled substance. It may destroy the unused pharmaceutical in accordance with state guidance and with appropriate documentation; or send the waste to a DEA-registered reverse distributor.
If the facility is a non-DEA registrant, it must directly dispose of controlled substances, except that DEA allows returns when the storage, dispensing, and returning occurs using an automated dispensing system (ADS) operated by a DEA-registered pharmacy.
A health care facility cannot return patient dispensed (even unit dosing) controlled substances. If pharmaceuticals have been dispensed under a prescription, the controlled substance cannot be sent to a registrant.
Reverse Distribution
Drug manufacturers may provide credit on the return of unused, expired and/or opened/'partial' pharmaceuticals. Reverse distributors are a key player in this returns process as they manage and calculate the credit on behalf of healthcare facilities and manurfacturers. Under current Federal interpretation, any pharmaceutical, including those that become hazardous waste upon disposal, that has the potential for credit can be returned. This removes the burden of having to treat them as hazardous wastes (or, more properly, shifts the burden to the reverse distributor). In particular, facilities do not have to use a hazardous waste hauler or fill out manifests to ship returns, or to count returns in determining their hazardous waste generator status. As state interpretations may be more stringent than the Federal interpretation, please contact your state environmental regulatory agency to ensure compliance with state regulatory requirements when utilizing reverse distribution.
It is important to recognize that only pharmaceuticals that have the potential for credit be returned and obvious wastes, such as broken containers, spilled contents, compounding leftovers, or similar cases, are not creditable. It is also important to deal with reverse distributors who are themselves in compliance.
EPA's Proposed Rule for Healthcare Facility-Specific Management Standards for Hazardous Waste Pharmaceuticals
On December 2, 2008, EPA proposed to add hazardous waste pharmaceuticals to the Federal Universal Waste Program. However, due to adverse comments received in response to the 2008 proposal, EPA decided to develop another proposal for healthcare facility-specific regulations for the management of hazardous pharmaceutical wastes in order to provide a regulatory scheme that addresses the unique issues that hospitals, pharmacies and other healthcare-related facilities face. It is anticipated that the proposal will be published and available for public comment in Spring 2013.
More Resources
Managing Pharmaceutical Waste - A 10 Step Blueprint for Healthcare Facilities in the United States